At the end of each year for the past couple of years I have compiled my 'top shots' from the previous 12 months and put them into a hardbound book. The subject matter covers the entire gamut of my photography from wildlife and raptors to landscapes.
Tony's Takes 2021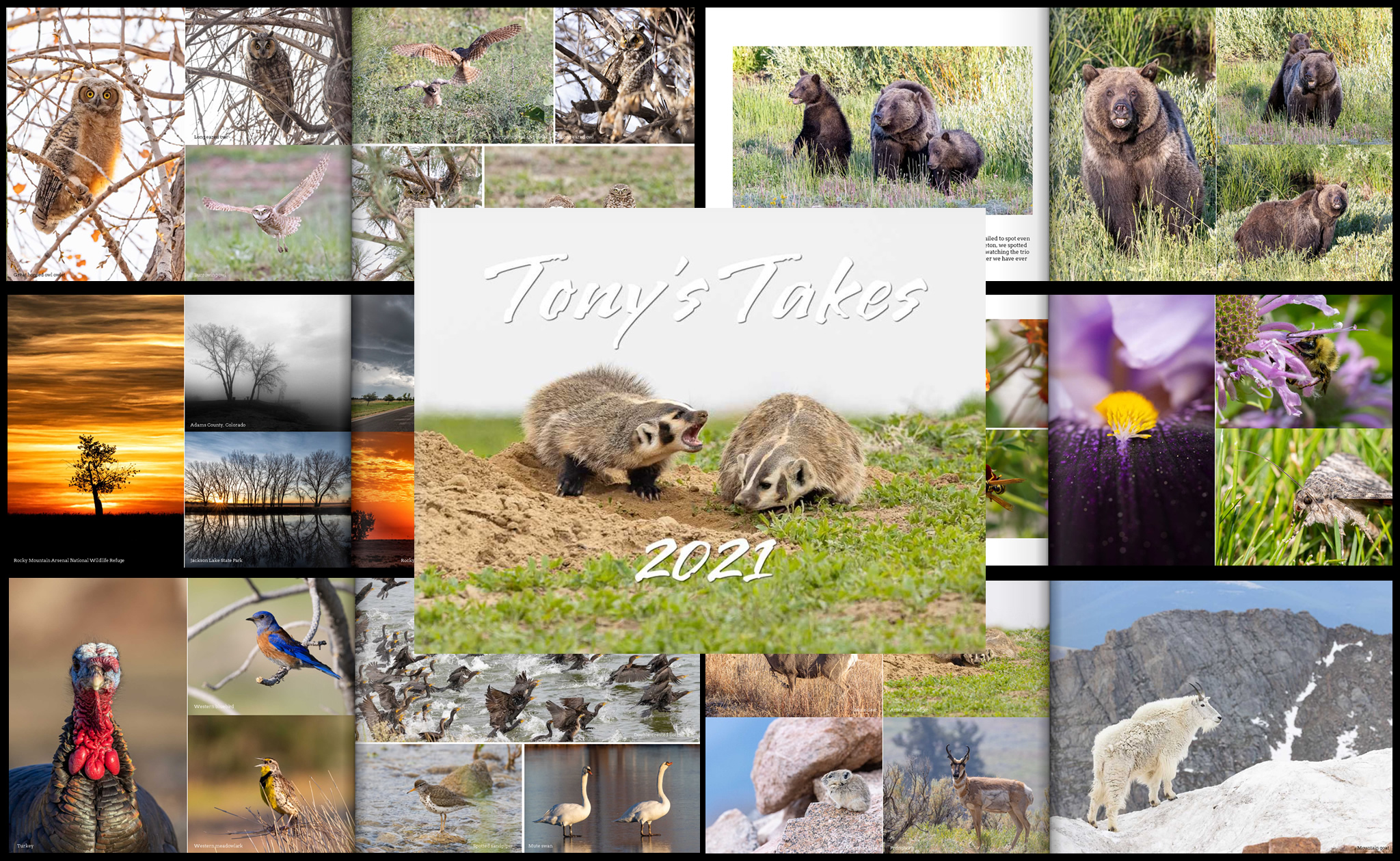 An extraordinary year in real lift and for my photography. Certainly the pandemic was the big story for everyone and, for me, challenges in my personal life toward the beginning of the year were difficult. None of that, however, kept me from getting out and taking pictures, my primary form of "therapy."
Highlights for my 2021 photo year were numerous.
Many a sunrise and sunset were the focus of my cameras as were incredible landscapes from the plains to the mountains. For me, my favorite event was a trip to Yellowstone and Grand Teton National Parks that was capped off with seeing one of the region's most family grizzly bears, Felicia, and her cubs.
There was the usual assortment of critters, large and small. From the diminutive American pika to the massive bison and moose and everything in between, an extraordinary variety of wildlife entertained me. Notable were multiple minks and my first chance to photograph river otters.
Special, one-time events were also notable. Among them the Great Conjunction with Jupiter and Saturn as well as a chance to photograph the metal behemoth, the Big Boy locomotive, as it thundered across the plains.
I am sure you will enjoy the 60 pages of full color photography contained within the 11 1/4″ x 8 3/4″ hardcover book. The 2021 edition is $54.95 plus $8.00 shipping. Please allow 10 to 14 days to receive.
---
Tony's Takes 2020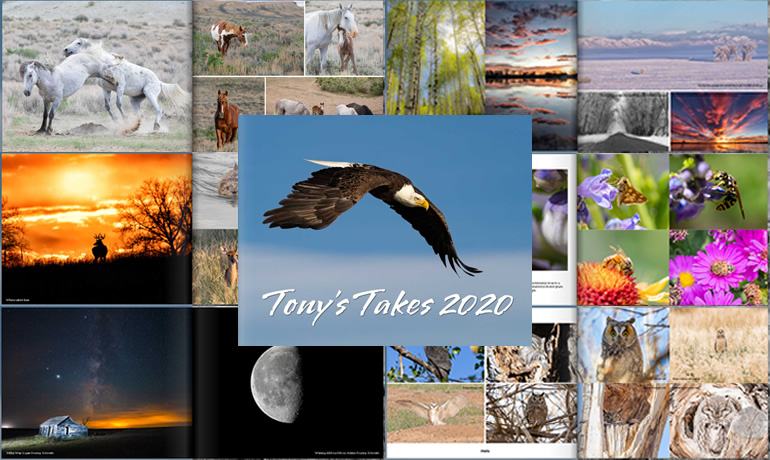 Quite a year, eh? The pandemic certainly will be the top story of the year as will a horribly divisive election. Locally, wildfires in Colorado caused extraordinary devastation to many areas which I have shared photographs of, places that I absolutely cherish. Throw in challenges in my personal life the latter part of the year and I could not wait to get 2020 over with.
Our travels were significantly curtailed because of everything going on. For the first time in many years, my camera did not even leave the state of Colorado. Thankfully, the Centennial State provides an abundance of opportunities. I was able to visit some new places I have longed to see and capture images of rare sights that few have witnessed.
The Tony's Takes 2020 book may not have cover as much mileage as in year's past but it still has the wide variety of landscapes and wildlife you have come to expect. In fact, at 72 pages, it is my biggest photo book yet.
Highlights include my first time photographing wild horses, a rare encounter with a bobcat family and an interstellar visitor in the form of a comet. Throw in all the regular abundance of sunrises, sunsets, moose, elk, foxes, owls and tons of other creatures and this book is one that I am pretty proud of.
Even though this book is bigger than any year's previous, I am holding the price on the 11 1/4″ x 8 3/4″ hardcover book at $54.95 plus $8.00 shipping. Please allow 10 to 14 days to receive.
---
Tony's Takes 2019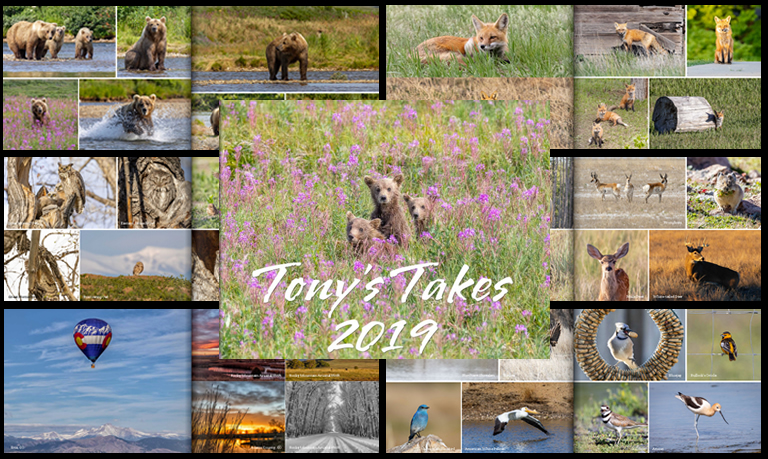 A photo year to remember! A once-in-a-lifetime trip filled with stunning landscapes and amazing wildlife was the highlight of my year but there was plenty of other extraordinary opportunities closer to home.
The 2019 edition of my photo book includes a trip to Alaska where the scenery begged to have its picture taken and animals big and small were in abundance. Capping off the trip was an excursion to Katmai National Park and Preserve where we spent a day photographing the impressive brown bears.
Beyond that, mammals from the small American pika to the massive moose were captured by my cameras in places as varied as the Great Plains to the peak of 14,000 foot high mountains. Most notable was my best year yet photographing foxes.
Birds large and small from little backyard birds to my favorite photo subject, the majestic bald eagle, were captured. Throw in the stunning landscapes of Colorado and there is a wide variety of images to please anyone.
Contained within a 11 1/4″ x 8 3/4″ hardcover book are 62 pages of my favorite photographs from 2019. I am sure it will be a bit hit with you or a worthy recipient of your choosing. The 2019 edition is $54.95 plus $8.00 shipping. Please allow 10 to 14 days to receive.
---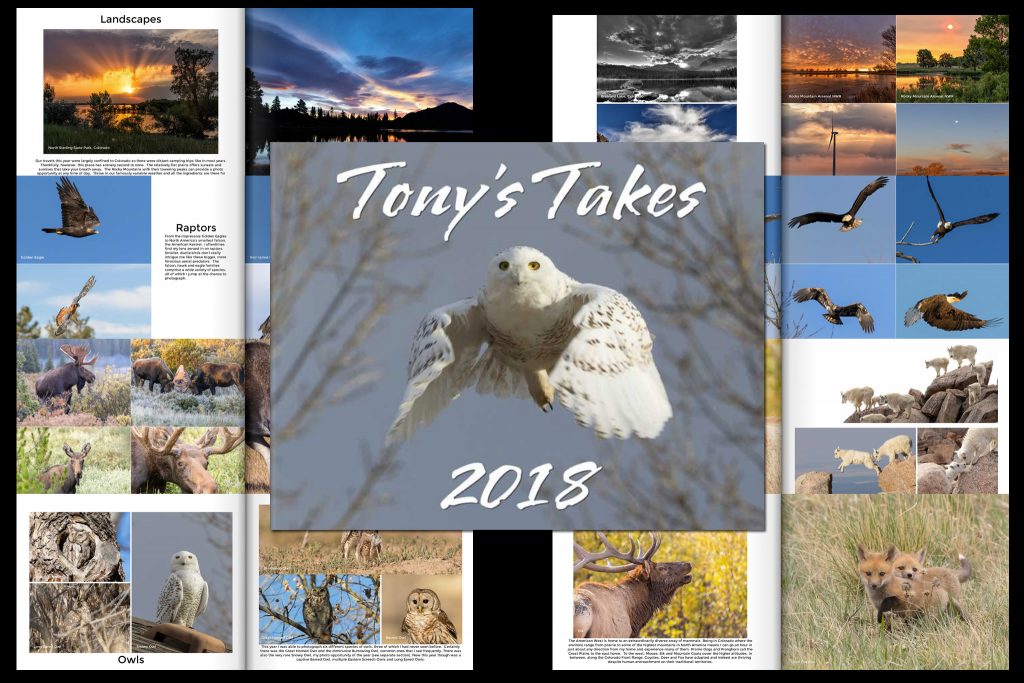 Tony's Takes 2018
While my travels didn't take me far this year, I think the photography was some of my best work yet. All images in the 2018 edition of my book were taken in my home state of Colorado. That is not, however, a bad thing as we have an amazing variety of landscapes and wildlife.
My year started out with a few amazing days spent with the rare snowy owl, my photo event of the year.
From there, I continued to capture images of the amazing things that nature has to offer. From the sprawling scenes of the Great Plains to the intimidating peaks of the Rocky Mountains. Within those, creatures large and small from the tiny American pika to the massive moose of the high country.
This year's book is my biggest ever, offering 52 pages of full color imagery in a 11 1/4″ x 8 3/4″ hardcover. I am confident you, or whoever you give it to, will enjoy it for years to come. The 2018 edition is $49.95 plus $8.00 shipping. Please allow 10 to 14 days to receive.
---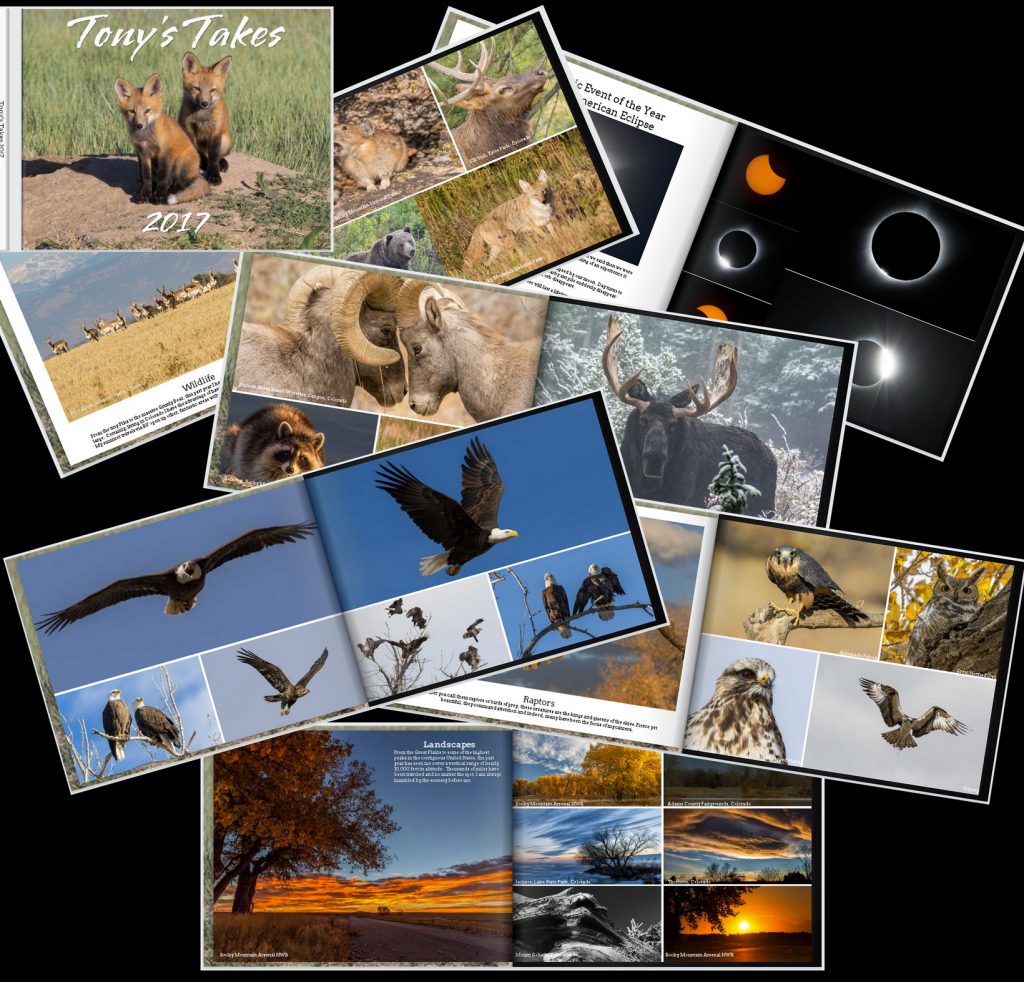 Tony's Takes 2017
An extraordinary year for me in terms of photography and in particular, some of the subjects I was able to capture. Yes, there is the usual wildlife and landscapes, however in 2017 there was more.
August brought what I call the 'photo event of the year', the total solar eclipse. I also had some amazing wildlife encounters including one with the rarest wildlife in North America.
I switched suppliers for my book in 2017 which allows me to keep the costs down while offering more pages – there are 36 full color pages of imagery in this year's edition. It is hardbound and perfect for gift giving or for sitting on your own coffee table.
The 2017 edition is $49.95 plus $8.00 shipping. Please allow 10 to 14 days to receive.
Tony's Takes 2016
A first for me – a photo book. I spent a lot of time working on this at the end of 2016 and had to keep it a secret as I couldn't risk the honored first recipient of it, my mom, finding out about it.
It is a hardbound, 8 x 12 inch, 24 page book of all my 'top shots' from the past year – wildlife, landscapes and more – with a very special dedication. You can preview the content below.
The book is now available for purchase for $75.00 plus $8.00 shipping. Please allow 10 to 14 days to receive.